The regular register
Index to the comics that have been published in the magazine
Suske en Wiske weekblad
---

---
This index contains all the comic strips that have appeared in the magazine Suske en Wiske weekblad.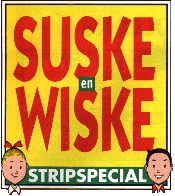 This journal started publication at September 15, 1993. The magazine in fact is a successor to a publication called Suske en Wiske stripspecial, of which 11 numbers have appeared. Those issues were never sold but distributed through several "reading-maps" in the Netherlands. (Those "leesportefeuilles", as is the correct Dutch term to describe them, contain a selection of magazines which are read in turn by subscribers to such a map. People who read these maps do not gain ownership of the magazines, they are allowed to read them for a week and then have to pass them on to the next subscriber.)
The stories from those "stripspecials" are also indexed in this register. They are recognisable by means of the numbering. the stories from the "weekblad" that appeared in 1993 are numbered 1993. Issues from the "stripspecials" are numbered 1993(S).
The index consists of several parts. The first part supplies an overview of all the series that have appeared in the magazine.
The second part is an alfabetical list of the stories which have been published in the magazine in the course of time. Since the separate instalments of stopcomics like 't Prinske and Bollie en Billie do not carry individual titles they can only be found through the "series"-part of the register.
The third part of the index lists all persons (Authors) who collaborated at the comics. Included in this section are not just script writers and drawers but also people who are responsible for the colouring, inkting and lettering of the comics.
In addition to the parts mentioned above this index also contains an overview of all the mini-albums that have been supplemented to the magazine and pictures of all covers.
When the index mentions an "aankondiging" (announcement), it means there has been an announcement in comic-style. Editiorial remarks, merely consisting of text, saying that there will we be starting a new story in the next issue have not been included.

---