Willy and Wanda
No. 21
The circus baron
---
---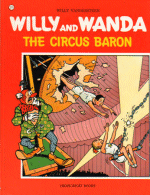 J
erome is bored with always having to wash dishes and vacuum. When he leaves home for good, our friends suspect foul play, but no trace of Jerome is to be found.
Meanwhile, Lambik is hired as the world's greatest clown by the Circus Fantasar, which is run by The Invisible One. Afger a few scraps with Rajah, the Royal Circus Tiger, Lambik discovers some mysterious goings-on in the Black Trailer.
Willy, Wanda and Sidonia join the circus and not only discover their friend and houseperson, Jerome, but solve the oily mystery of the Black Trailer.
---