Suske and Wiske : The musical
De stralende Sterren (The shining stars)
---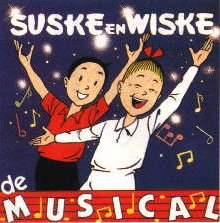 In 1994 the Royal Youth Theatre in Antwerp started the Suske and Wiske musical. After an enormous success they decided to cross the Netherlands and perform the show there as well.
The 29th of october 1995 was the last performance of the musical in Rotterdam. The beginning of the show of this final performance was changed.
The Belgian Television, BRTN, recorded the show and broadcasted it. The Dutch version, which was different is recorded but was never broadcasted.
The days and locations of the performances can be found in the Dutch version of this document.
---