Bob e Bobette
---

---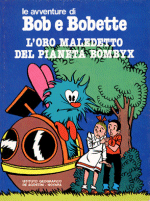 T
he Italian comic fans have had two opportunities to get acquainted with Spike and Suzy in their own language. During the fifties two stories appeared in the Italian edition of the magazine Tintin. Twenty years after this Italian debut six albums with adventures of Bob e Bobette were published.
The name for Suzy was slightly different in Tintin. Instead of the common French name "Bobette" she was called "Bobetta" in this magazine. More information about the names used in the Italian stories can be found at the page Suske & Wiske: International.
Publication overview
---
With thanks to
Claudio Piccinini
for scanning the covers and data about these publications.
Click
here
for a short introduction in Italian.
---